Need help mounting a TV in your home or office?
There are many reasons to hire someone to mount a TV. Here are a few:
Safety: Installing a TV incorrectly can be dangerous. If the TV is not mounted securely, it could fall and injure someone. Our professional installer will have the experience and expertise to mount your TV safely.
Peace of mind: Knowing that your TV is mounted securely will give you peace of mind. You won't have to worry about it falling or getting damaged.
A professional finish: Our professional installer will be able to mount your TV in a way that looks great. They will use the right tools and techniques to ensure that your TV is mounted level and secure.
Time savings: Installing a TV yourself can be time-consuming. A professional installer can mount your TV in a fraction of the time.
Convenience: Hiring a professional installer is convenient. You won't have to worry about buying the right tools or figuring out how to mount the TV yourself. The installer will take care of everything for you.
Affordability. The cost of hiring a professional installer is often comparable to the cost of buying the tools and materials yourself. In addition, you'll save time and hassle, which can be priceless.
If you are considering mounting a TV, contact us today. It is a safe, convenient, and affordable way to get the job done right.
Reasons to mount your tv:
Comfort
Weather you are sitting standing or lounging, if your tv is mounted on a full motion mount you will almost always be able to achieve the best viewing angle for the most comfortable body position.
Safety
A tv that is mounted is not going to accidentally get tipped over by the grandkids or an inebriated family member or friend.
Deter theft
If a tv is screwed into the wall and tools are required to remove it, the length of time needed to steel it increases and the likely hood of theft decreases
Multi room use
Full motion tv mounts allow you to adjust the tv to different positions, so it can be seen from different parts of the room or different rooms entirely. Full motion mounts with longer than standard extension arms allow even more flexibility when adjusting.
Save space
Can eliminate the need for a TV stand or entertainment console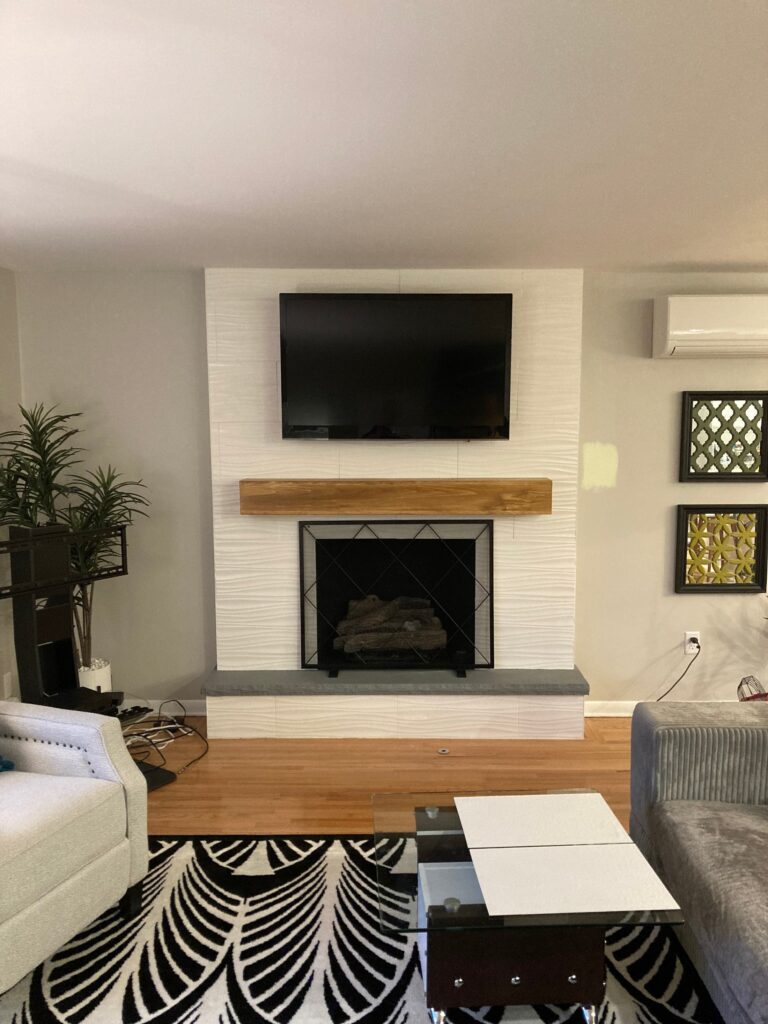 TV Installation and Mounting Equipment
Below is a list of of my favorite TV mounts including factors such as: application, cost, & TV size
Favorite all around mount for big screen TV's 42-70inch Suitable for stud patterns 16" 18" and 24"
Favorite mount for big screen TV's must be 16" stud pattern 37-75inch TV's More cost effective
Favorite mount for small TV's 13-42inch, only requires 1 stud Able to accommodate many different VESA TV Mount patterns
Favorite Long Arm TV mount for Big Screen TV's 37-80 inch
Pro Tip – Best stud finder and it will never run out of batteries Stud finder – stud buddy.
Best affordable socket set with no missing sizes metric and standard deep and shallow 3/8" drive
Best Drill bit set for use with drill or impact Milwaukee 48-89-4630
1/4" hex drive to 3/8" socket drive adapter
How To Mount a TV (basic)
Want to See What it Takes to Mount a TV?
This video will show you how to do it in just a few easy steps. Whether you're mounting your TV on the wall or on a stand, this video will have you covered.
What You Will Need 
Stud finder – stud buddy. Buy Online